Chamasoft is a web and mobile platform which automates operations within investment groups. It focuses on promoting accountability, transparency and efficiency.
Below is an image of an investment group using Chamasoft to manage their group finances. It gives a detailed summary of the group's total cash available (in the bank and at hand), total contributions, total fines and total expenses and each members total contributions vs arrears.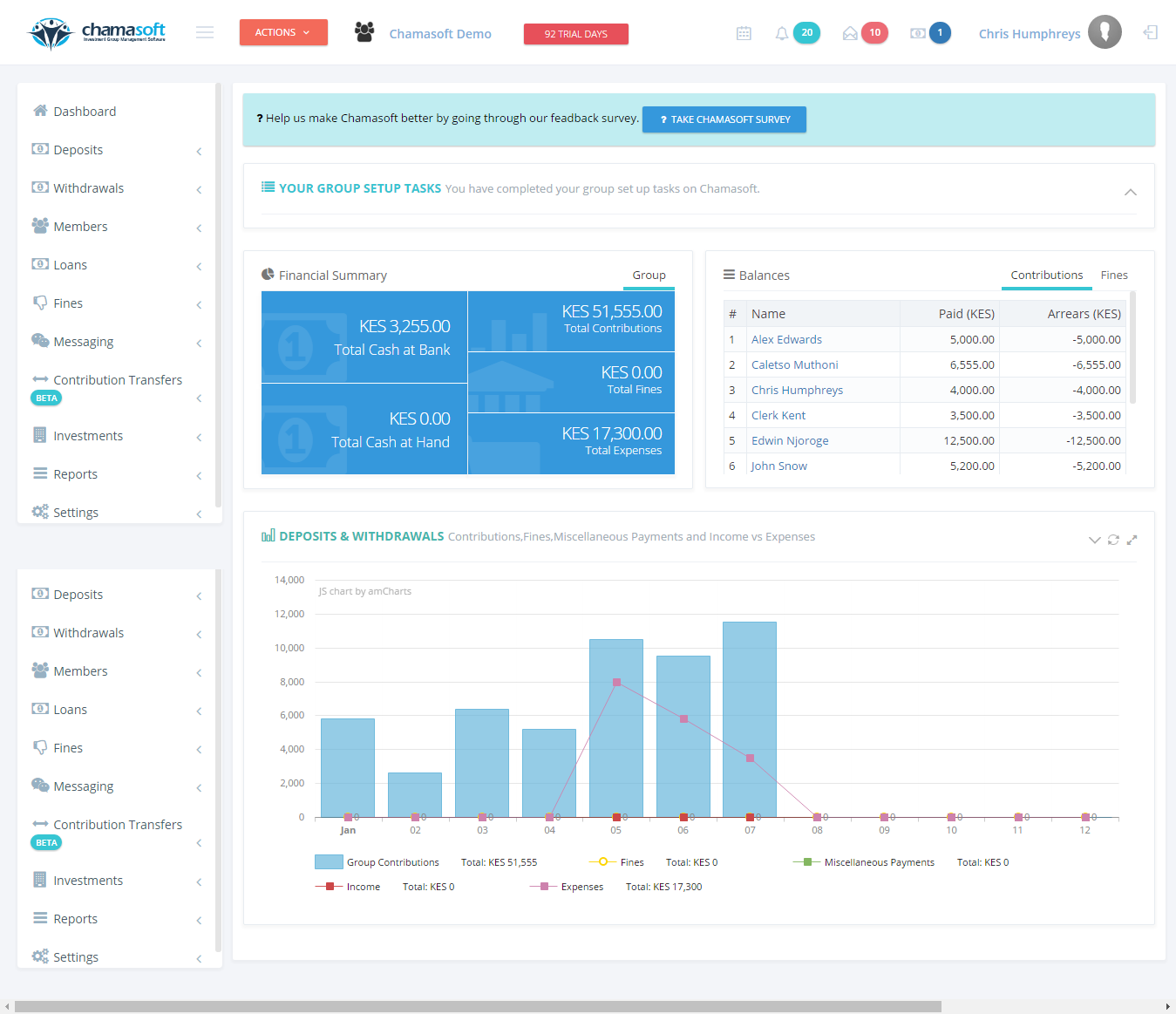 Chamasoft achieves this by providing a feature rich platform that caters for the needs of a thriving investment group.
Below is a breakdown of all the features available to investment groups.
Features
This module on Chamasoft handles all the group member accounts (all members registered on Chamasoft have an account created for them, which they can use to login to the group).
This module has the following functionalities:
Member Directory which contains all the details of the group members i.e. member name, phone number email address, member's total contribution, fines and fine arrears.
Member Statements which outlines all member transactions that have taken place.
Add Members where one can add a member to the group using their information ( i.e. member name, phone number and email address if available. ) Members can use this information to sign in to the group.
List Members which shows a list of all the members in the group.
Chamasoft acts as an online treasurer for the Sacco. It does this in the following way;
It reminds members to pay for their different contributions, sends them invoices and updates their respective statements detailing how much they owe and why they owe it.
If a member defaults in paying for their contribution, Chamasoft automatically calculates the members' penalty and updates his/her statement.
All the treasurer does is record payments and Chamasoft reconciles everything
Chamasoft allows one to record withdrawals, transfers and deposits that are performed on the Sacco bank accounts so as to be able to track what is happening in the bank accounts.
Chamasoft allows users to track expenses as they occur, be it for land purchases or payments for services. This expenses are recorded in the withdrawals module of Chamasoft.
Through our loans panel, Chamasoft provides a platform where Sacco's and investment groups can record and keep track of their internal lending.
This module contains the following functionalities:
Loan Calculator  which enables one to calculate a loan depending on the different interest types i.e. fixed rate, reducing balance rate or custom interest rate.
Create a Loan  which is a member loan interface, whereby the user is allowed to enter the loan disbursed together with the terms of the loan e.g. on fixed interest/reducing balance for 12 months. Once submitted the module manages notifications on installments, balances and penalties due.
Create a Bank Loan which is a module to record a loan from external sources ie other financial institutions eg banks.
This module on Chamasoft enables the group members to keep track of projects e.g. Expenses regarding purchase of property, stock and money market investments.
This includes the following investments:
Stock which allows the user to record stock purchases and list them.
Assets which allows the user to record asset purchase and sales and link them.
Money Market Investments which allows the user to create a money market investment which offers the group members the opportunity to invest smaller amounts in their capital.
This module on Chamasoft enables the user to view all the group transactions summary.
This consists the following:
Contribution Summary which shows the monthly contributions and the total group contributions summary.
Fines Summary which shows the members fine summary and the total group fines.
Loans Summary which shows the loan details ie Total Loaned Amount, Total Repaid Amount, Total Loan Arrears.
Bank Loan Summary which shows bank loan details ie Bank Loan Received, Bank Loan Repaid, Bank Loan Arrears.
Expenses Summary which shows a summary of the group expense categories.
Account Balances which shows a summary of the bank account balances, petty cash account balances and the total cash available.
Transaction Statement which shows a detailed description of all the group transactions.
Cash Flow Statement which shows a summary of the money coming into and out of  the group. This includes the group's income and expenses.
Income Statement which generates a document the group's profit and losses within a set date.
Trial Balance which generates a document that shows the total debit and total credit in the group.
Balance Sheet which generates a document that shows the balance between the group's total assets and the liabilities plus capital.